We are one of the pioneers in the world and the first team in Armenia, who has started developing games using Cocos2d-x 3. We have started with Cocos2d-x in 2013 when it was still in 3.0 alpha version. There were no tutorials, no books no forum coverage of the new API and there was no community available for help either. All the resources were from Cocos2d-x 2, the older version of the engine, and after the major revision of the API code snippets usually were not even compiling.
It was painful at those times to learn to do even the simplest things and the engine was lacking many important features. We have used it version by version and have been following the progress of Cocos2d-x engine and how it has been maturing, as we have believed that it had to become a solid game engine. Now it has become the best game engine for 2D games in terms of being very lightweight, open source and mature enough to have all the necessary features for developing a game with rich experiences.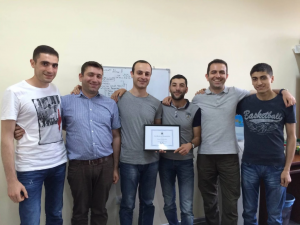 Until now we have worked on about 10 projects using Cocos2d-x, the biggest of which is Megarama Slot Games for iOS, Android, Windows Phone and Amazon platforms. Also we have been very active and contributed a lot in Cocos2d-x community. For that reason, in 2016 we have been recognized as a regional coordinator of Cocos2d-x in Armenia.
We are very happy to see how the development of the engine is moving forward. We are also very excited to see Ricardo Quesada, the main author of cocos2d-iPhone and co-author of cocos2d, leading the project. He is the Chief Architect at Chukong Technologies and works full time on Cocos2d-x engine development.
This is a project he has started out of his enthusiasm and passion, therefore he considers his job position a dream job. And we all know that working on a project with passion is the key to success.
The community expectations are very high related to the Cocos2d-x game engine development. Dear Cocos2d-x team, we
thank each one of you for your great work!
Author: Narek Aghekyan,  CEO at Noor Games
Have a Project in Mind? We Are Here to Discuss.