Victory belongs to the most persevering. -Napoleon Bonaparte
Noor Games has participated in Casual Connect in Kyiv, Ukraine this year. Casual Connect is an international conference devoted to game development which was founded in 2006. The event was held on October 24-26 and there were more than 1000 professional attendees, 80 game industry experts and executives from companies such as Apple, Google, Epic, Ubisoft, Facebook, Amazon, Microsoft, Nordeus, Gameloft and so on. Within 3 days, 1200 minutes of educational talks were provided from representatives of industry-leading experts. Topics were covering industry insights, growth, casino, market navigation, technology, monetization, design, marketing, company management, business of games and more.
We were so excited to have so many game experts around us. So much experience and knowledge was floating around that one could learn infinitely. Those 3 days were very intense – presentations, workshops, personal meetings, discussions, play-testing, etc. Just around a cup of tea we could learn something that others had understood struggling, trying and failing for several years. I don't even talk about how powerful the networking aspect was.
Nowadays game market is very developed and demanding and, as a result, the competition is very high. We were very interested in how people succeeded in such a tough market. The target was to somehow understand and summarize the key to success in gaming. People were openly sharing their experience and knowledge with us, answering to all our questions. The problem was  that all the stories that we heard were very different – the game genre, the technology, the platform, the development team structure, the marketing strategy, the target audience, i.e. almost every single detail was different.
Have a Project in Mind? We Are Here to Discuss.
But there was one thing which was hidden in all that exciting success stories and one could easily let that unnoticed. That one thing was the only common thing we could find in all the stories. All developers tried and failed, tried again and failed again and they have persevered for years. They have done that with great love and dedication and every time they have learned from the previous mistakes, making their success closer and more deterministic. And one beautiful day their games have become a success.
I would like to summarize with the words of the Ukrainian poet:
"Борітеся – поборете" Тарас Шевченко ("Keep fighting – you are sure to win." Taras Shevchenko)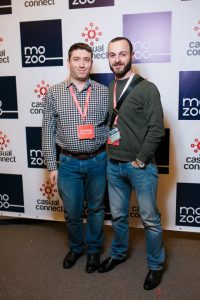 Photo by Casual Connect Kyiv 2017
Author: Narek Aghekyan, Founder and CEO at Noor Games