Global Game Jam is one of the biggest international hackathons dedicated to the development of digital and non-digital games. The main objective is to create a game on a given topic within 48 hours. The theme is unveiled only on the day of the event. Participants can use any technology.
We have learned about Global Game Jam from our friend Ara Shirinyan, who is a game designer in the USA. The idea was very motivating and we have decided to organize a Global Game Jam Hackathon in Armenia. It was a responsible decision because Global Game Jam 2017 was going to be held for the first time in Armenia. So, we have started to look for a place where we could hold this event. Here we came across with the first obstacle. We have done a lot of research and one of the first organizations who has quickly agreed to cooperate and share with us its experience and resources, was Union of Information Technology Enterprises (UITE). Two days before the event, we have found out that we were having problems with internet and heating.
Aram Keryan – the operations manager of Entrepreneurship and Product Innovation Center (EPIC) of American University of Armenia (AUA) has kindly agreed to join us as an organizer and provide with comfortable space and all the necessary facilities. Simultaneously, by using social networks, we have informed all interested parties to join the hackathon. We have decided to have limited places this year – only 50 participants. The idea of creating a game only within 48 hours was really fascinating and many programmers, artists, animators, sound engineers, etc. were interested in this unique event in Armenia.
Day 1: On January 20 we were ready to start…

The participants came from 16:00 and we started the check-in process by giving them different stickers based on their professions as it would have been very useful while forming teams.
The CEO and Founder of Noor Games Narek Aghekyan has presented jammers the agenda, guidelines, rules of Global Game Jam Armenia 2017 and at the end of the presentation we have watched the keynote video and have learned the theme of the GGJ 2017 which was Waves.
We have had 33 jammers who have formed 5 teams and have started to generate ideas of games. Some of them have decided easily what kind of game they want to create but there were participants who had neither team nor the idea. Hence, unfortunately, we had participants who left the event.
Have a Project in Mind? We Are Here to Discuss.
Day 2: The working process continued.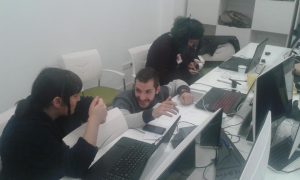 Not only programmers, but artists, animators, game designers and enthusiasts took part in the event. To develop the games, the participants used their own computers, monitors and other necessary equipment. After having sleepless nights jammers still worked hard and tried to handle the problems which appeared during game creating process. Surely, we did not forget to have fun, help each other and test games.
Day 3: Time to present the games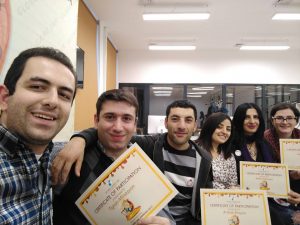 We all were tired because it was really difficult and interesting to create a game for only 48 hours. The teams presented their games and they used different kinds of waves in their games such us sound, light, water waves and even gravitational force. Breaktrough Wave, Noizes, Psychedelic Waves, Reach 2 Sea, Star Catchers and The Fault in Our Waves are really splendid games which were created within the walls of the hackathon. You can get information about those games here.
In the end all participants were given certificates by the organizers of GGJ Armenia 2017 in commemoration of this unique experience and the two crazy nights.
Noor Games team have created a game called Psychedelic Waves. Watch the gameplay video on Youtube. We hope you will like it. And see you next year at Global Game Jam Armenia.
Author: Inessa Voskanyan, Business Developer at Noor Games
Have a Project in Mind? We Are Here to Discuss.